CARHA currently operates two medical clinics in the Gonaives area -- Bayonnais and St. Martin. The clinic in Passe-Reine will be fully staffed by local physicians, nurses, and technicians and will treat and minister to the residents in Passe-Reine and surrounding communities. In addition, we have been and will continue to lead medical mission teams to assist at each of our clinics in Haiti. This grant request will be allocated to the medical portion of CARHA alone, and we will use fund raisers to fully fund the construction project.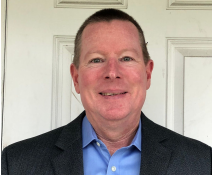 A Medical Clinic Update!
The past 14 months have been an interesting time for the CARHA Medical Ministry. In September 2019, we opened a new clinic in Bayonnais called "The Well" thanks to our partnership with GoBuildLove. This clinic brings medical care to a remote area of Haiti that has served hundreds of patients already. In January, we re-opened an updated clinic in St. Martin. Hundreds of patients were cared for every month at these two locations. Then the COVID pandemic struck. Under the leadership of our Medical Director, Dr. Faustin Charles, the staff took a proactive approach of education and prevention while continuing care through the clinics.

At this time, we have not seen as significant an impact in and around Gonaives compared to other parts of the world. Exciting new additions are coming in 2021 Mobile Clinics The current Haitian staff will use mobile clinics two days each month to provide care for about 200 people in villages where the population cannot get to an existing clinic or hospital.

Medical Teams Medical teams from the U.S. are forming. These week-long medical mission trips begin in May. These trips will partner with mobile clinics and enable professionals to see over 500 patients per week. Join a Medical Team at https://www.carha.net/medical-care.html. We can do all of this only through your fantastic support. It's a wonderful time in the medical ministry as we see God work in and through staff and volunteers. We will continue our commitment to provide necessary care, both physically and spiritually, for as many people as possible. Let me introduce you to some of our staff and patients.


Don Taylor US Medical Coordinator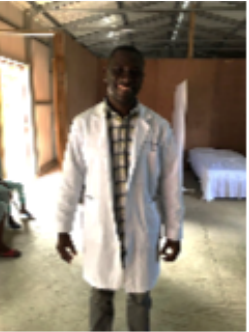 Medical Director Dr Faustin Charles
Haiti Medical Director


"It is a great pleasure to give back to the community where I am from." We are blessed to have such a talented and dedicated professional as our CARHA Medical Director. Dr Charles was born and raised in Bayonnais.

He began his medical training in 2003. Medical school was followed by internships in 2010 and 2011 for social services. From January 2013 to January 2017, he completed his education and training to become a certified General Surgeon. His general surgery training included time at The Brooklyn Hospital in New York and Carolina Medical Center in North Carolina in addition to Novant Health Center in North Carolina for colorectal surgery.

We are truly blessed to have Dr. Faustin Charles as the CARHA Medical Director. He joined the CARHA team in August 2019 with a great vision and plans for opening The Well Medical Clinic in Bayonnais. He has hired, trained, and equipped the staff at both CARHA clinics while still working as a surgeon in the Gonaives General Hospital.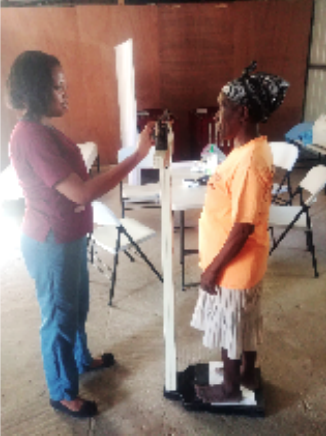 Volunteer Spotlight Nurse Darline Dubreu


Nurse Darline Dubreus's family is from Bayonnais. She has always had a desire to work in her home community after she completed her studies. She missed her original CARHA interview because she was in the Dominican Republic with her mother who was sick at that time. In March, she wrote a note on the CARHA Facebook page to show her desire to work as a volunteer in the clinic in Bayonnais. Pastor Djumy saw her message and met with her.

After hours of talking, he understood how much Nurse Darline was interested in working as a volunteer at the clinic. She started working in the clinic as a volunteer in April. "It is very unusual that someone in the medical field works without pay since they are unsure how to pay their expenses," Pastor Djumy notes. "She is a very good and professional RN. After many months of volunteering, she still gives the best of herself in everything that she does in the clinic.

No one thinks of her as a volunteer because she works so well." It is a blessing for us to have Nurse Darline with us. We hope to have her officially integrated into the team soon.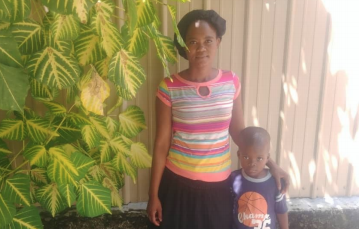 Cholera defeated


On November 12th, we sent a small team down to develop new sponsorship applications for at least 700 children. We also knew that several of our children had recently developed Cholera and were staying in a remote mountain area clinic. Little did we know that our team would get pulled into assisting with Cholera treatment and education.

Since 85% of all Cholera cases can be treated with a homeopathic mix of salt and sugar, our team had purchased salt and sugar to be available for immediate need at the orphanage. During the team visit to the remote clinic it became apparent that our supplies were immediately needed to assist the 60 or so sick patients at the open air clinic.

Our God is so cool with knowing the timing of everything. Our actions were also positively noted by Haiti's Minister of Health and one of Haiti's largest redevelopment organizations OIM. Over the short stay, we also did presentations to several churches on the treatment and prevention of Cholera.